Performances Program>
Workshop>
Performer/ Artists >
CUT is the title for the third and current upcoming International Performance Festival organized by Open Space Berlin in cooperation with BLO-Ateliers and RAW-tempel.
The Festival agenda presents six days of a courageous cross section of the most actual positions and attitudes of the invited performers from the USA, France, Spain, Italy, Denmark, Israel, Switzerland, Brazil, Germany, the Philippines, Sweden, South Korea and Japan. The spectrum of radical performers, political actions, poetic, mystical and symbolic performances give our public insight into the nomadic essence of contemporary performance art praxis, rich in contrasts.

CUT is conceived to move in three distinct sequences: the making of, in form of a workshop with the legendary Mushimaru Fujieda and The Physical Poets, (Japan),
a series of Interventions in Public Spaces, and Presentation of performances in architecturally diverse alternative art spaces.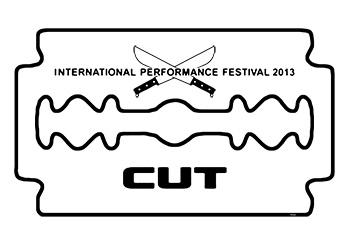 "aaand CUT!" Director´s cut, paper cut, wood cut, film cut, lateral cut, cut out -a freeze in the flow, - budget cut -a cut injures, goes under the skin, a cut can kill or can be rescue -a cut separates from that which is superfluous -a film cut brings the scene to the point, the cut in a dress exposes the nitty gritty -a cut in a theater curtain reveals a horizon of light -the cut of a diamond increases its value - Cut is also an opening, a sharpening, and a form giving.