THE LIVING THEATRE presents
Workshop: Biomechanics of Meyerhold
directed by Philip Brehse


Saturday September 8, 10am - 5pm

Sunday September 9, 10am - 2pm

Monday September 10, 7pm - 11pm

cost $200
(Work/Study and scholarships available)

Biomechanics is an approach to actor training developed by Russian actor, director and teacher, Vsevolod Meyerhold during the 1920' and 1930's.
His ideas were fundamental to modern theatre and have influenced major directors such as Peter Brook, Grotowski and Brecht, and The Living Theatre.

"Biomechanics proposes a choreographic approach to the creation of character. It is sometimes called a physical Stanislavski. Meyerhold emphasized emotional effect upon the audience over the personal emotional experience of the actor. It is a rigorous training. It builds strength, suppleness, precision, control and daring."
(Carlo Altomare/Theaterlab)
Biomechanics trains the body in a codified way to work from the outside in, to tap into a psychological and emotional life through the outer physical form. It combines Japanese movement sensibilities, commedia dell' arte, plasticity, musical rhythm, and science to the ends of creating a very specific aesthetic for a very specific ideology of what theatre should look like. Actors trained in Biomechanics are truly athletes.
We will examine two, possibly three of Meyerhold Etüdes, highly stylized movement pieces which Meyerhold choreographed as exercise material for his students.

Participating ACTORS must wear light weight sneakers with a good tread with a free ankle. (No sandals, shoes, boots and not barefoot.) Jewellery is not permitted. Wear loose clothing preferably without slogans, advertising or patterns. We want to present ourselves as a neutral form and to simplify the understanding of the forms.

Philip Brehse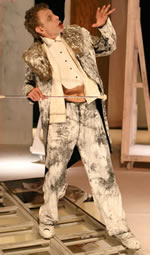 Philip Brehse, is an Actor, Director, Musician, Teacher, Performance Artist and Cofounder of the Open Space Performunion, Berlin. An American living in post wall Berlin, dedicating most of his time to maintaining the freedom of not just working in one category of art and exploring the rigor of creation and change with artists from all mediums and in diverse forms and places.
After studying Acting in the BFA program at Ithaca College, his fascination with the Biomechanics began in the early eighties
through work with Carlo Altomare, Mary Krapf and The Alchemical Theater, in N.Y.C. and in Europe, followed by the late eighties epoch of The Living Theatre with Judith Malina and Hanon Reznikov and a very exciting ensemble on 3rd St. and extensively in Europe.
Living and working since 1991 in Berlin, he has continually furthered his research, practical training and scene study extensively in Meyerhold and in Biomechanics through regular training with Gennadi Bogdanov, (Moscow) in Berlin and completed Bogdanov´´s Master Class at the Expo-Hannover. For eight years, taught and directed Biomechanics and Schauspiel at the Athanor Akademie, in Burghausen, under the direction of Dr. David Esrig, (Bucharest.) Currently teaches at the Neue Schauspielschule, Nürnberg, (direction, Peter Hain.)
He is Currently collaborating with his Artistic Partner Michael Steger on a new production of Mysterium Buffo from Majakovski for the upcoming Open Space Festival of Free Art in Berlin, October 13-22, 2007
Statement, resume, information about acting and directing credits, past projects, upcoming projects at: www.performunion.de




from the Etüde: Stringing of the Bow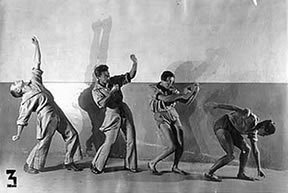 Further information on Biomechanics can be found at TheaterConversations
A short video of Meyerhold's work can be seen at video


Candidates for the workshop are encouraged to RSVP as soon as possible. Payment of half of the quota must be received by September 2. Please send resumes (via internet) and any inquiries to livingtheatreorg@yahoo.com
Work/Study and scholarship candidates should send a letter of inquiry to garyliving@yahoo.com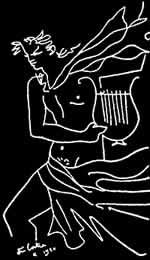 The Living Theatre
2 1 Clinton Street, New York City
www.livingtheatre.org

...zurück>