DIVERSE UNIVERSE III presents:
Open Space Performunion at the NON GRATA Art Container, Tallin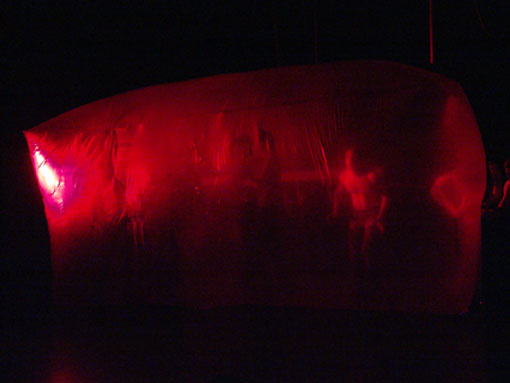 13.07.2007 17:00 - Opening, Drinks, Sauna and Performance when the time is right
Gefühlte Wirklichkeiten / Felt realnesses
is an exhibition of documentation and live performance which researches the state of being beyond the mask of actual media propaganda imposed by the capitalist environment. The exposure of Open Space Performunion in the Non Grata Art Container Documents three Stages of this scientific, political and artistic process:
Photos by Amy J. Klement of our Theater Production, Gefühlte Wirklichkeiten / Felt realnesses, in Open
Space and at the Berlin 100° Festival at the Hebbel Theater, Berlin in 2006 and 2007.
It deals with the commercializtion of love most evident in the Gay dark rooms of Berlin, the search for the sun, and feeling real love.
The second aspect is excavation of physical intelligence through the actual study of movement inspired by the Russian Director W. Meyerhold, (killed by the Stalinists in 1947), in our recent collaboration with the Living Theater (N.Y.C.), at the Malta Festival in Poznan´, Poland in June, 2007.
The third aspect investigates through our performance on the opening night of the exhibition the actual political Sado Masochism of w arming up the cold war for a second time.
Are you still interested in sex and politics?

Philip Brehse (N.Y.C./Berlin), Jane Saks (Tallinn/Berlin) and Michael Steger (Berlin)
--
Mari Kartau
www.hot.ee/siramsiram
www.hot.ee/artcontainer
www.nongrata.ee
www.performunion.de

ASK EVERY QUESTION, QUESTION EVERY ANSWER
DIVERSE UNIVERSE III esitleb:
Open Space Performunion Non Grata Kunstikonteineris
Avamine 13.07.2007 kl 17..00. Joogid, saun ja performance (siis kui on õige aeg).
Gefühlte Wirklichkeiten / Felt realnesses
... on dokumenteeriv näitus ja etendus, mis uurib olemise olukorda teisel pool kapitalistliku keskkonna meediapropaganda poolt kehtestatud maske. Open Space Performunion ülesastumine Non Grata Kunstikonteineris dokumeteerib teadusliku, poliitilise ja loomingulise protsessi kolme staadiumi:
Amy J. Klement fotod meie lavastusest Gefühlte Wirklichkeiten / Felt realnesses, â Open Space is ja Berlin 100 Festivalil Hebbel teatris, Berliinis 2006 ja 2007 aastal. Kästiletakse armastuse kommertsialiseerumist, mis avaldub kõige ilmsemalt Berliini gay-kogukonna pimedates ruumides; päikese ja tõelise armastuse otsinguid.
Teine aspekt on füüsilise intelligentsi uurimineläbi praktilisete liikumiseksperimentide, mis on inspireeritud vene lavastaja W. Meyerholdi (tapetud stalöinistide poolt 1947) ideedest ja meie hiljutisest koostööst Living Theater(NY), Malta Festvalil Poznanis, Poolas juunis 2007.
Kolmas aspekt uurib näituse avamisperformance kaudu praktilist poliitilist sadomasohhismi, mis on eelsoojenduseks teistkordsele külmale sõjale.
Kas te olete endislt huvitatud seksist ja poliitikast?
Philip Brehse(N.Y.C./Berliin), Jane Saks(Tallinn/Berliin) and Michael Steger (Berliin)